December 16, 2014
Holiday Meeting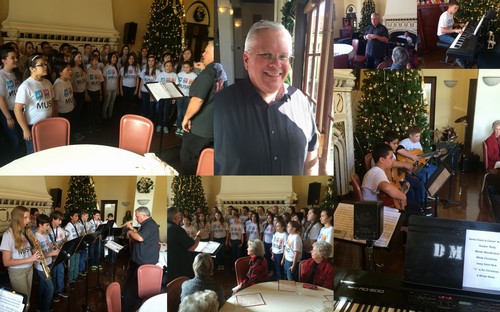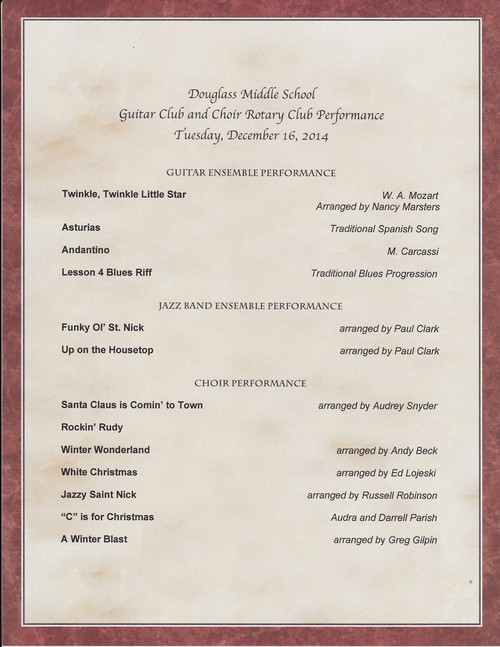 HOLIDAY MUSIC PROGRAM - Ken Holck, Music Teacher, brought his Douglass Middle School Guitar Club and Choir to perform.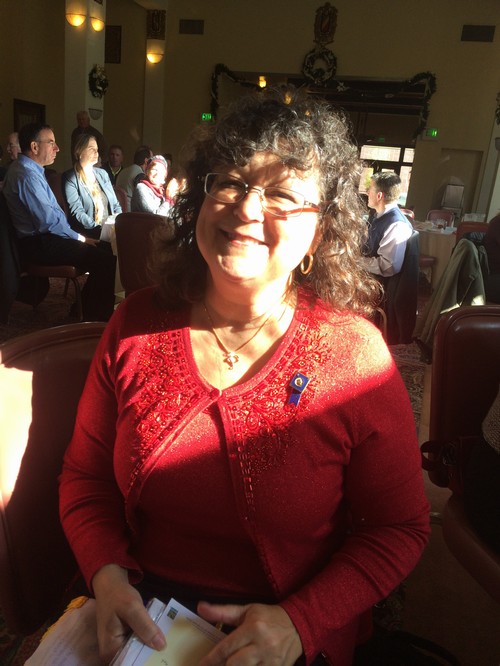 District 5160 Governor Pam Gray attended today.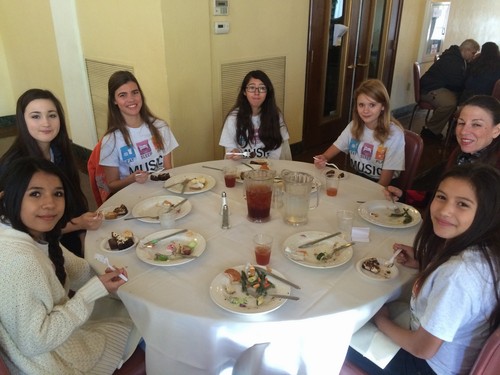 Good turnout today!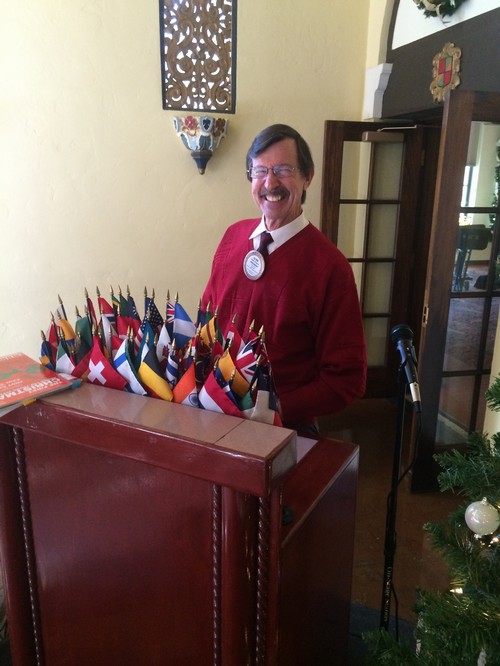 President Clyde has the holiday spirit! Clyde received an special banner from District Governor Pam Gray for his leadership on the Club's Rotary Foundation efforts in November.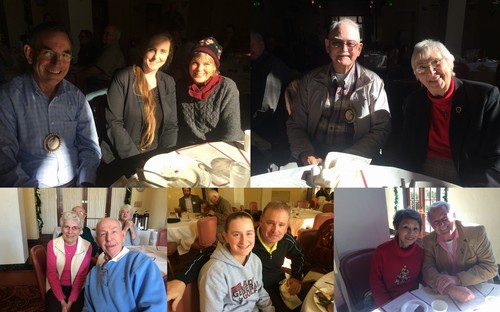 Guests today.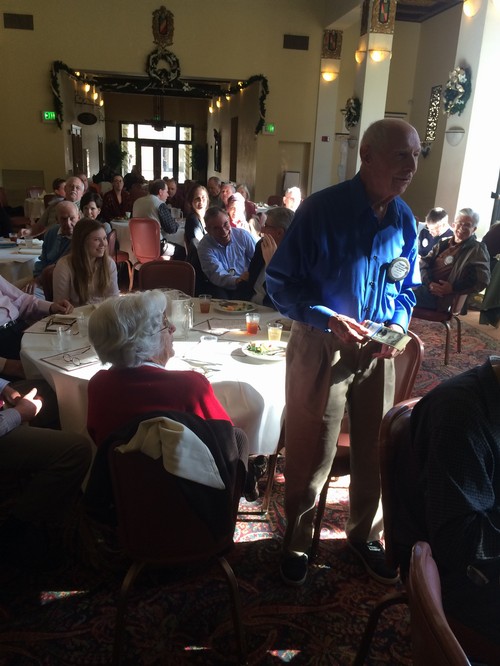 FRANK'S BACK! - Frank Gardner, along with wife Shirley, made his first meeting today since recent surgery. Good to see you Frank!
GIFTS FOR KIDS AT UCD MED CENTER - The Club responded to a drive initiated by Linda Konietzko by donating a variety of gifts for children who must spend Christmas in UCD Medical Center's Pediatric ICU this season. President Clyde and Linda delivered the gifts.

Rotary Foundation Award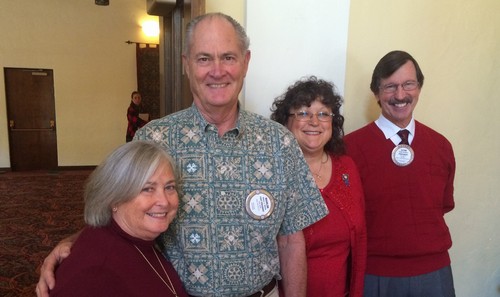 Mahlon Whittle, joined by his wife Jan, received a MAJOR DONOR AWARD from District Governor Pam Gray at the Dec 16 meeting recognizing his lifetime contributions to the Rotary Foundation of more than $10,000. Less than 1% of Rotarians ever receive this award.
December 9, 2014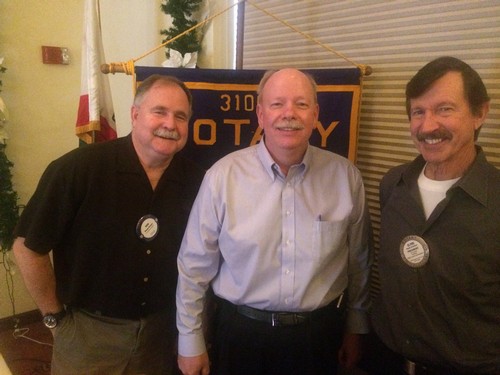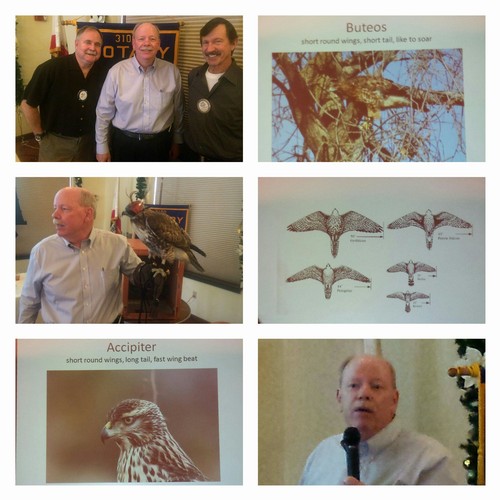 FALCON PROGRAM - Peter Martin was the guest speaker at our meeting today giving us a program on Falconry and How Falconers operate.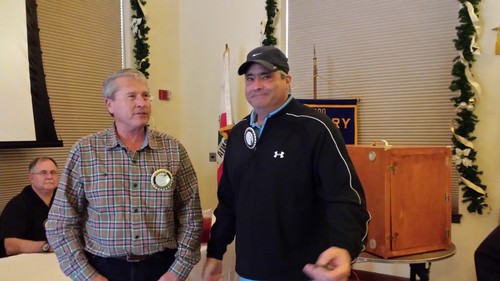 PAUL HARRIS FELLOW - Dave Molinaro received a pin today from Foundation Chair Tom Schwarzgruber recognizing Dave has earned his third Paul Harris Fellow.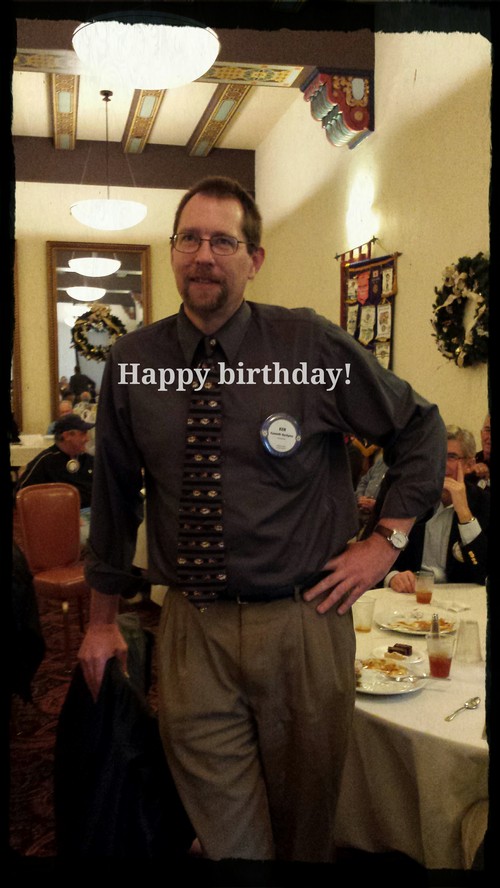 BIRTHDAY BOY - Ken Nordgren celebrated his 49th with us today. Doesn't look over 30 does he?!?!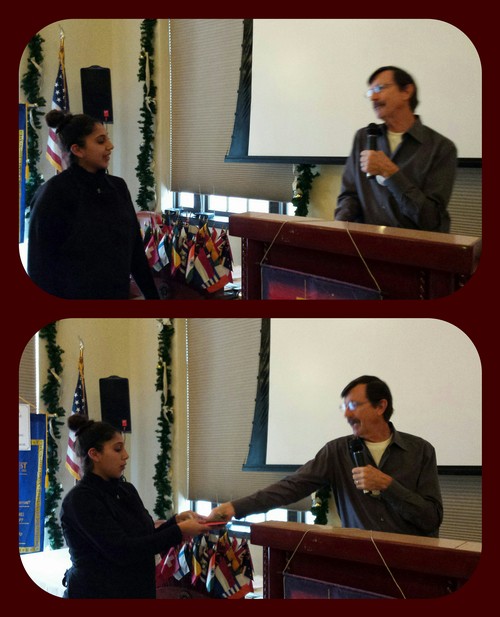 THANK YOU VANESSA - President Clyde presented our food server Vanessa with a Christmas card and a tip from Club members for her dedicated service over the past year.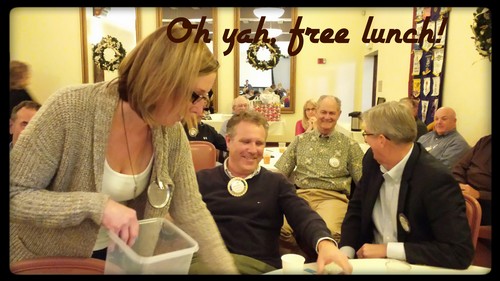 RAFFLE - Its no fun to win the raffle the week after a big pot was won. So, Peter Holmes drew a free lunch.

December 6, 2014
Christmas Parade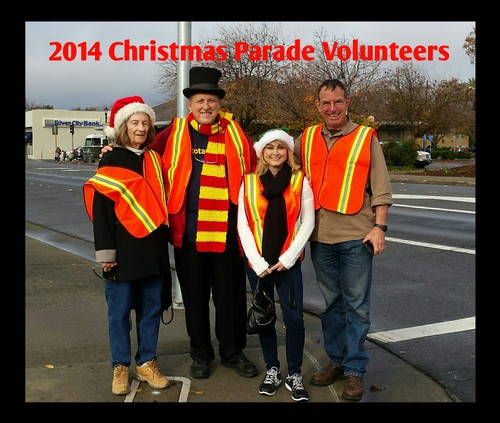 Club volunteers at the December 6 Woodland Holiday Parade included Dona Mast, David Flory, Laurie Ruiz and Gary Wegener.
December 2, 2014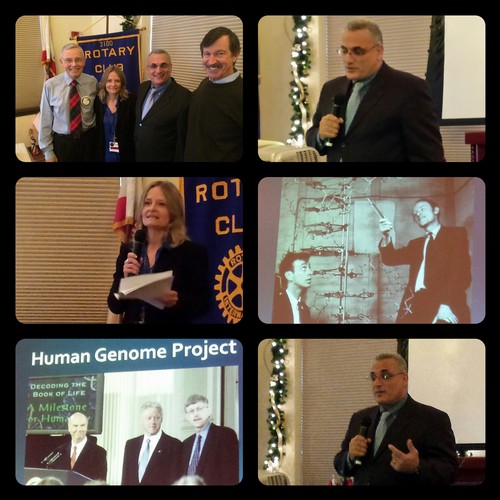 ONCOLOGY UPDATE - Woodland Healthcare's Dr. Alborz Alali and Oncology Nurse Navigator Jennifer Thietz were our guest speakers today giving a program on 'What's New in Oncology'. Dr. Jim McGibbon arranged for and introduced the program.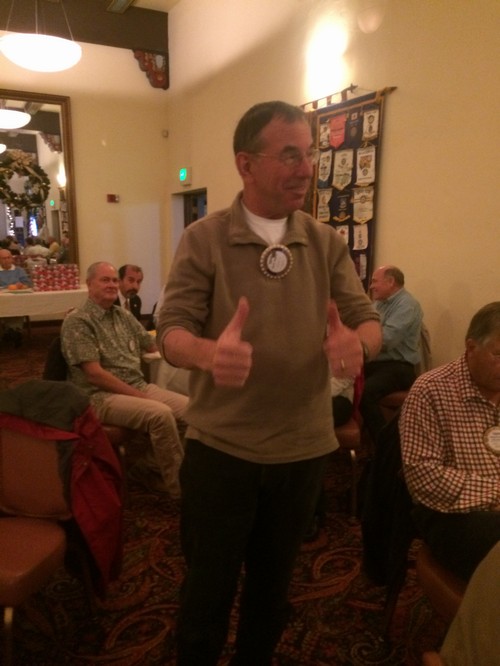 OFFICER NOMINATIONS - The Club's Past President's submitted their nomination for 2015-16 Club officers today. Heading the list was Gary Wegener as President-elect nominee.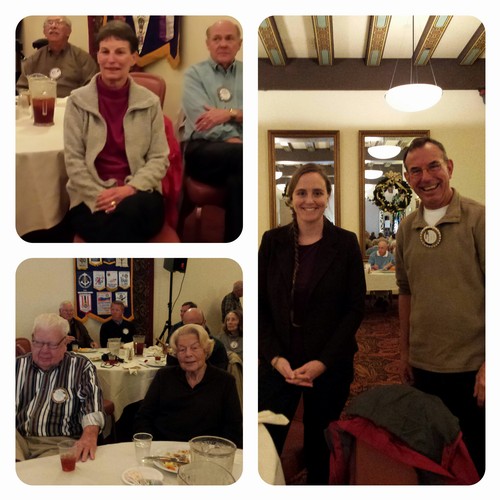 GUESTS - Today's guests included (clockwise from top left) Judy Kohlmeier (Roger), Erika Verdi, representative with Principal Financial Group (Gary Wegener), and Ruth Moeller (Bob).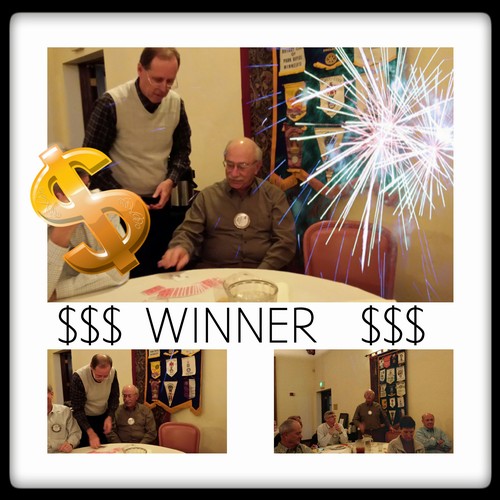 RAFFLE WINNER!! - Chuck Maltese won the $487 jackpot in today's raffle. He donated all the proceeds to the Rotary Foundation! Way to go Chuck!

November 25, 2014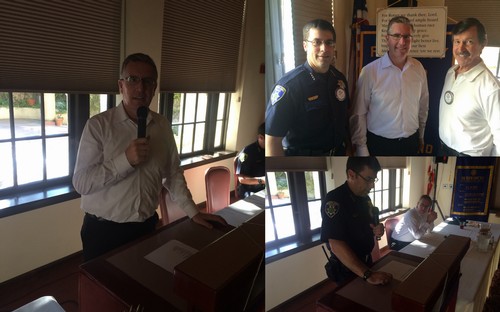 4th & HOPE UPDATE - Doug Zech, Executive Director of 4th & Hope was the guest speaker at our meeting giving us an update on the services and organization of 4th & Hope. Doug was introduced by Dan Bellini.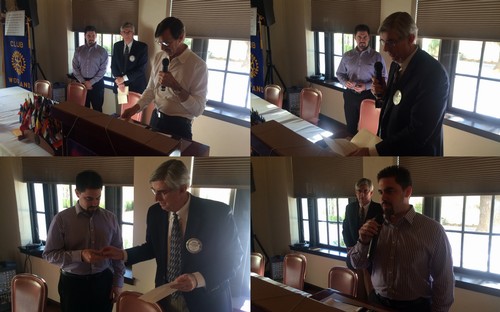 NEW MEMBER INSTALLATION - Joe Bartlett was installed as the newest member of the Club. Joe was sponsored by Scott Johnston.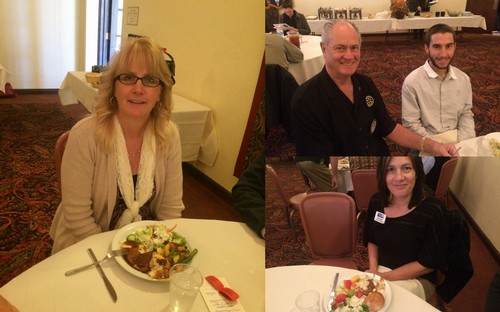 VISITING ROTARIANS & GUESTS - Vicky Faye from Sunrise Rotary was with us. Todd Whittle (Mahlon Whittle) and Lori Ross (Kris Kristensen) joined us as guests.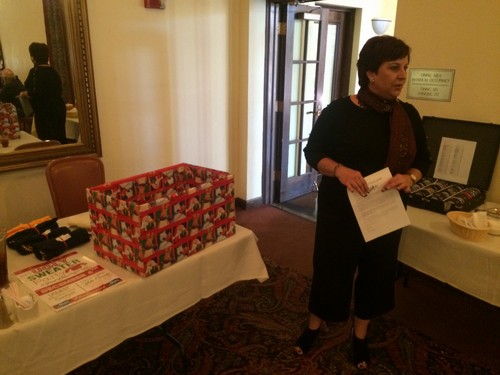 RALLY THE ELVES - Linda Konietzko urged us to give gifts for children that must spend the holidays at the UC Davis Medical Center Pediatric ICU.
November 18, 2014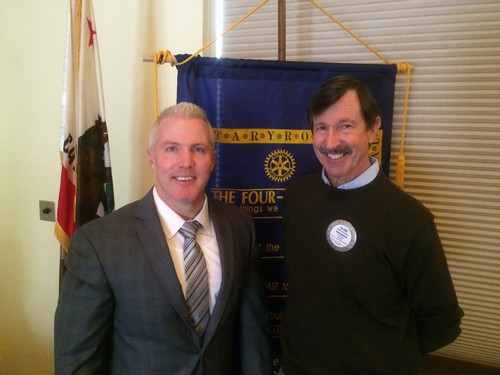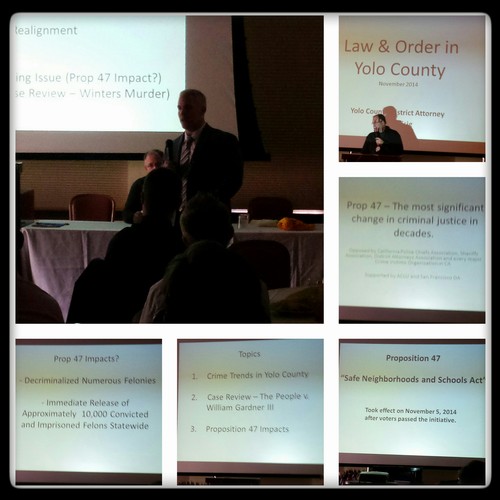 UPDATE ON LAW & ORDER - District Attorney Jeff Reisig was the guest speaker at today's meeting giving us a program on Crime Trends in Yolo County; a case review of The People v. William Gardner III; and Prop 47 impacts.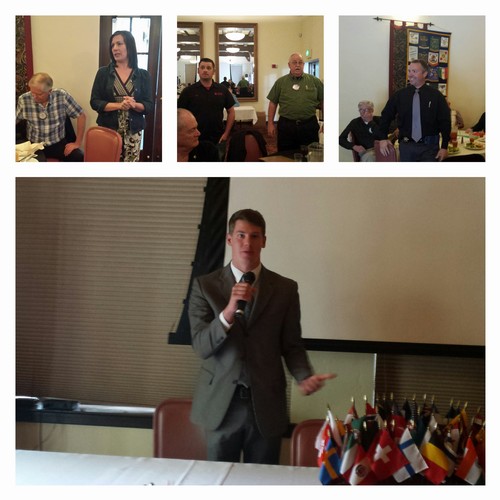 GUESTS OF ROTARIANS - Lori Ross (Kris Kristensen), Josh Hilliard (Mike Chandler), Rob Strange (Christian Sherrill), and Tim Erickson (Clyde Brooker).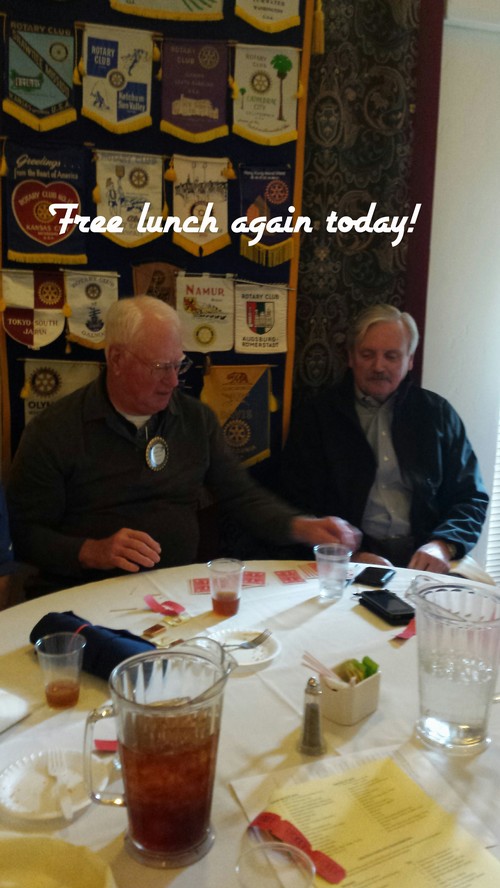 RAFFLE - George Burger draws a free lunch.

November 15, 2014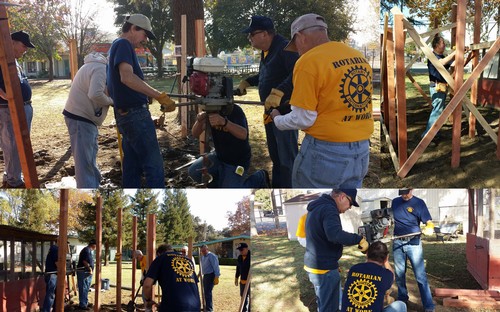 CHICKEN COOP PROJECT - The Club's Work Day Saturday, Nov 15 at the Sci-Tech Academy in Knights Landing. ?
November 13, 2014
Social Evening - Mojos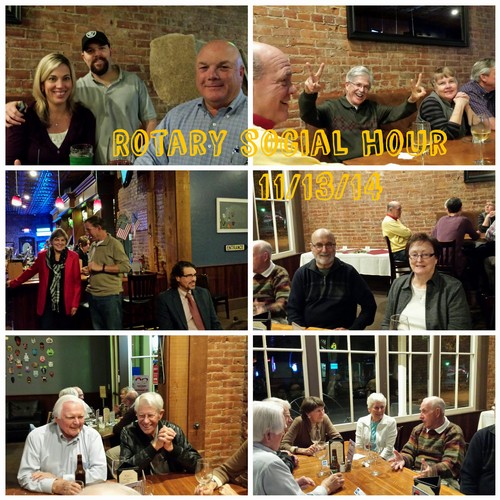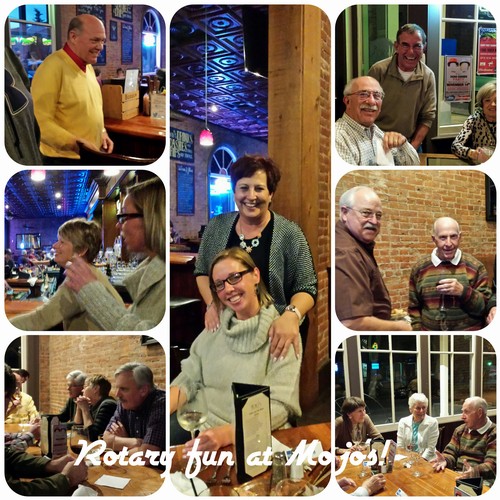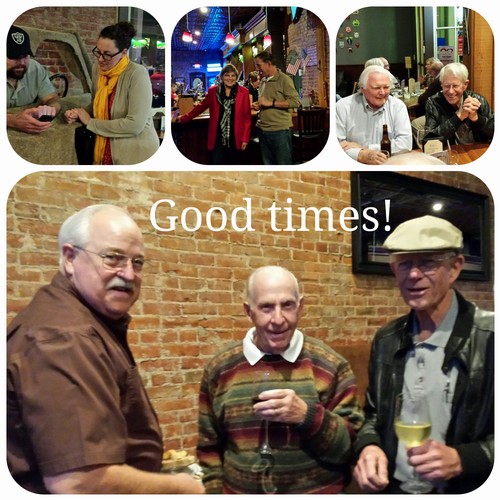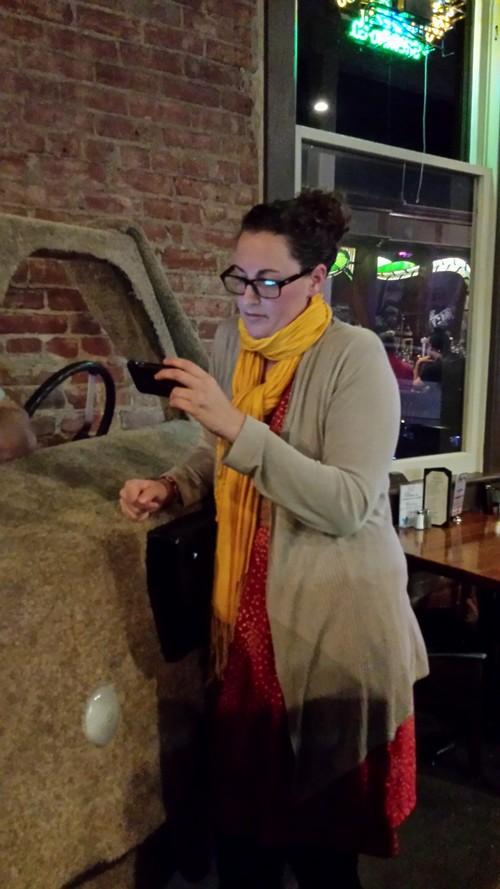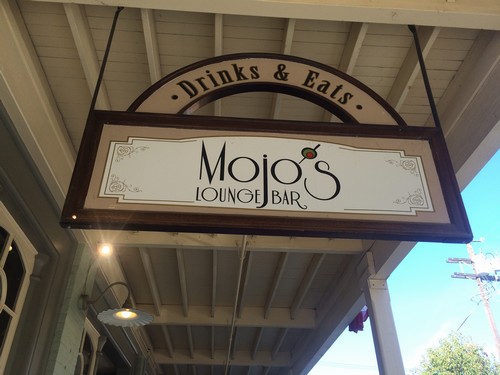 Social Gathering - A good group of members & significant others gathers for drinks and appetizers at Christy Hayes' Mojos Lounge. ?
November 11, 2014 - Veterans Day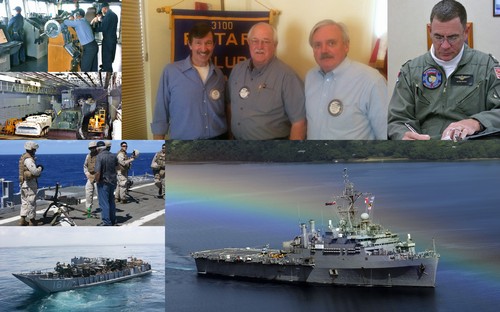 TIGER CRUISE USS CLEVELAND - Mike Chandler was our speaker at today's meeting giving us a program on his April 2010 'Tiger Cruise' about the USS Cleveland (LPD-7) from Pearl Harbor to San Diego.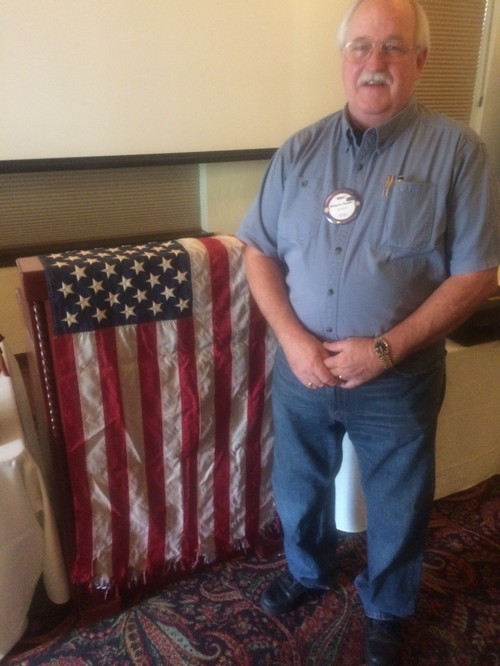 STEAMING FLAG - Mike Chandler with the steaming flag of the USS Ronald Reagan's 2008 Persian Gulf tour; a gift from Kevin 'Bud' Couch who was the XO on that tour.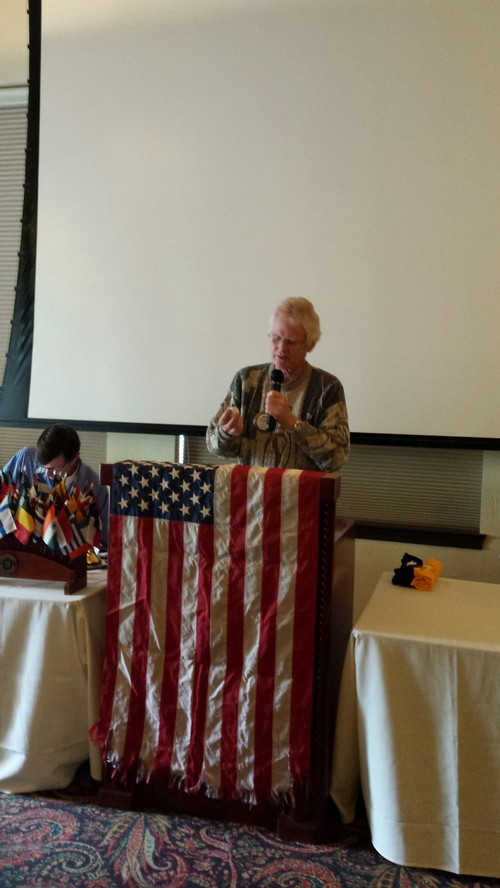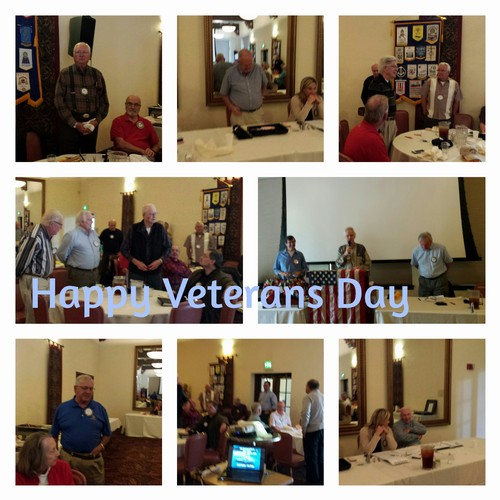 RECOGNITION - David Janes led the effort with a tribute to Veteran's Day.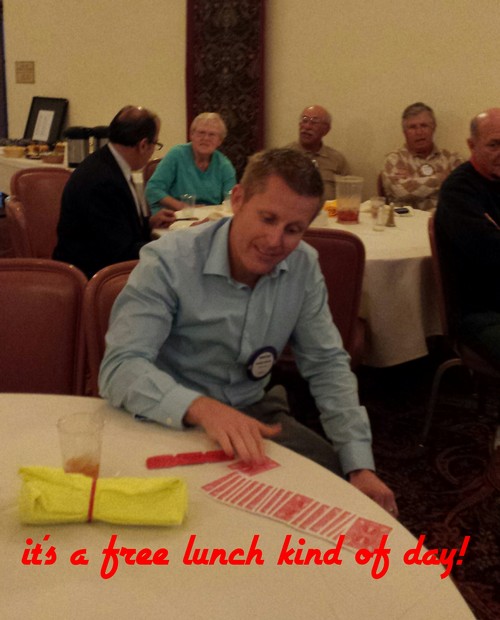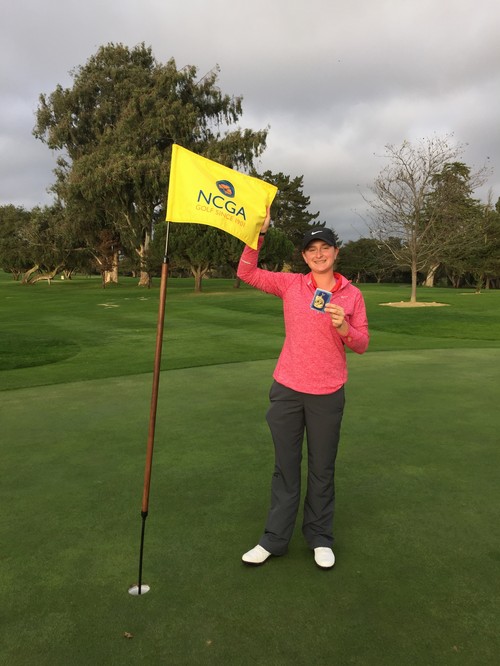 COURTNEY ADVANCES - Courtney Vogel, Woodland Christian School junior and daughter of member Kurt Vogel, advanced to the Cal State Golf Championships.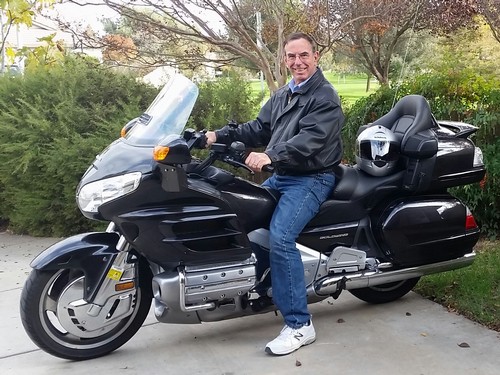 NEW BIKE - Gary Wegener recently traveled to the East coast to pick up his new Goldwing and ride it back home.

November 4, 2014
ROTARY FOUNDATION PROGRAM - Past District 5160 Governor and current District Foundation Chair (our own) Karl Diekman was our speaker at today's meeting, giving us a program on the Rotary Foundation.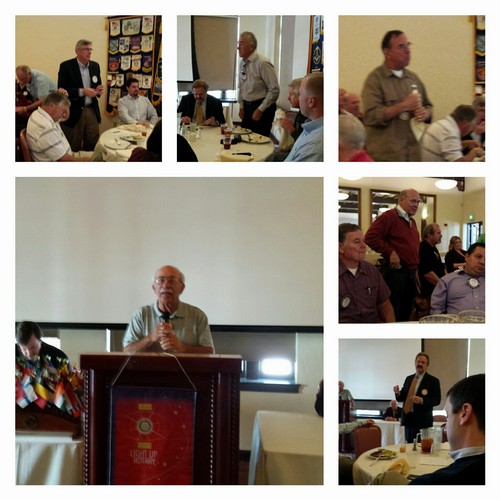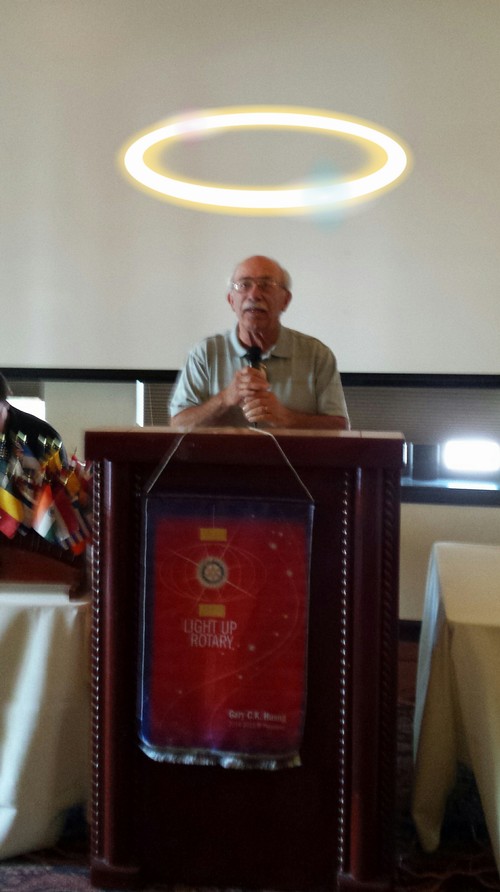 ?

RECOGNITION - Chuck Maltese was at the helm today. Was it Saint Chuck???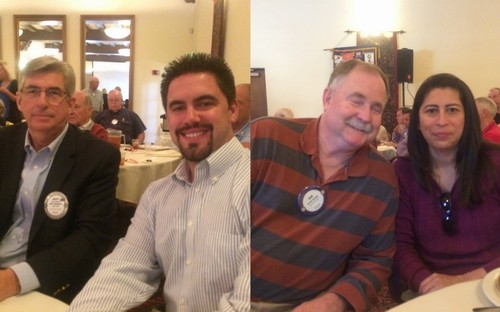 GUESTS OF ROTARIANS - Joe Bartlett, guest of Scott Johnston, and Edith Graham, guest of Dan Stroski

Paella Dinner - Rotary Style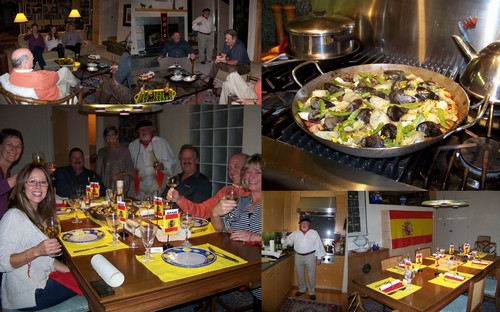 With help from Margaret Anderson, Kathy Amen & Kris Kristensen, Gary Wirth recently hosted a Paella Dinner at his home for Roger & Judy Kohlmeier, Kevin & Lori Haarberg, and Steve & Cindy Spiros who purchased the dinner at the 2014 Auction.
October 28, 2014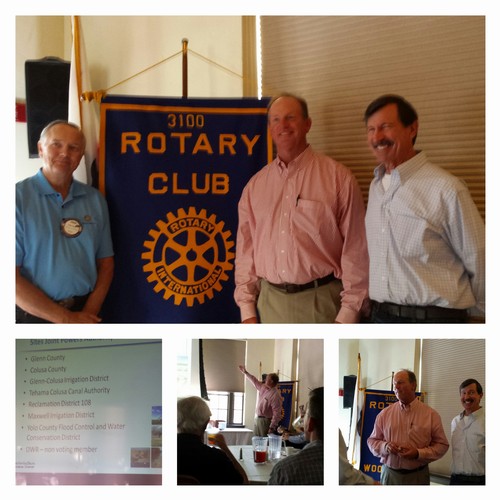 SITES RESERVOIR PROGRAM - Local farmer Fritz Durst was the guest speaker at today's meeting giving us a program about the proposed Sites Reservoir Project which is part of the California Water Bond (Proposition 1) on the November 4th election ballot. Fritz was introduced by Roger Dorris.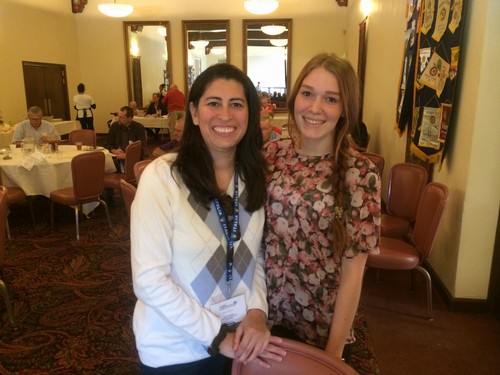 FOREIGN EXCHANGE STUDENTS PROGRAM - Edith Graham (left) with the American Institute for Foreign Study (AIFS), along with Jasmine, a student from Germany, joined us today at the request of Christian Sherrill. Edith talked about her work in placing foreign students with local host families.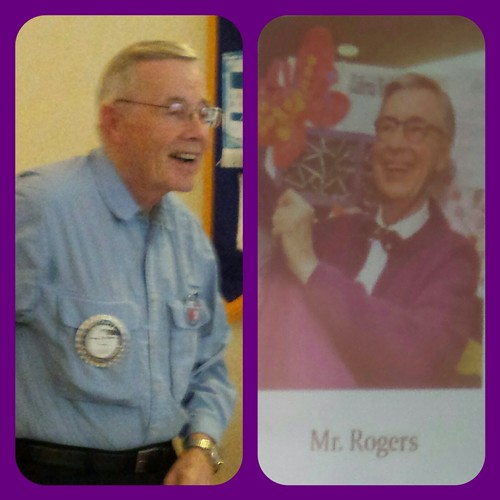 RECOGNITION - Dan Stroski's Recognition presentation today highlighted Halloween costume suggestions for various members.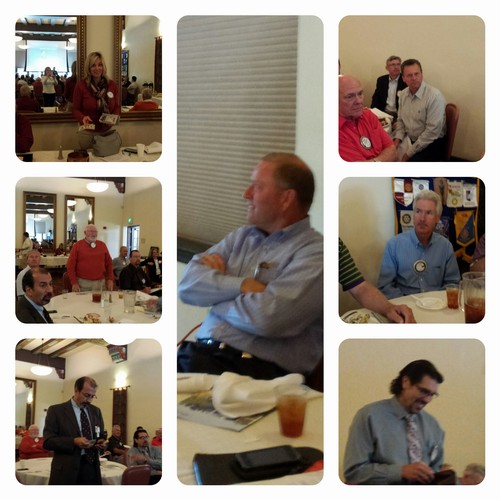 More sights seen today!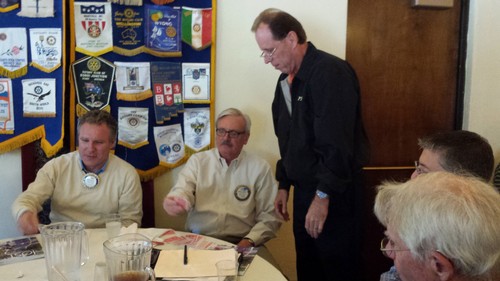 ?
RAFFLE - Jim Nolan drew a free lunch!

October 21, 2014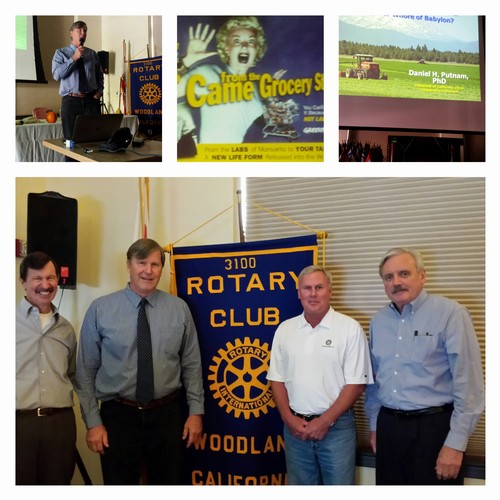 ALFALFA PROGRAM - Dr. Dan Putnam, Extension Agronomist with UC Davis, was our guest speaker today giving us a program on "Genetically Engineered Alfalfa - Queen of Forages or Whore of Babylon?"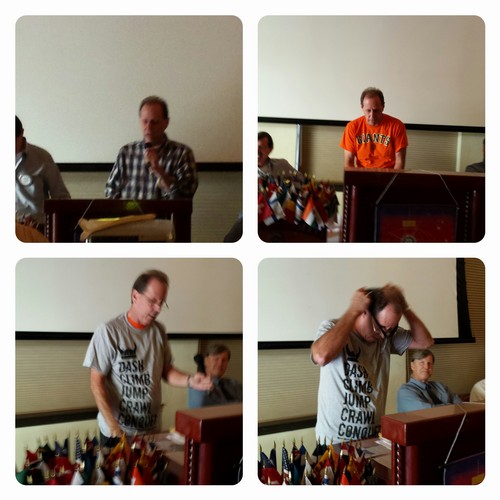 Gary Bunch on Recognition duty.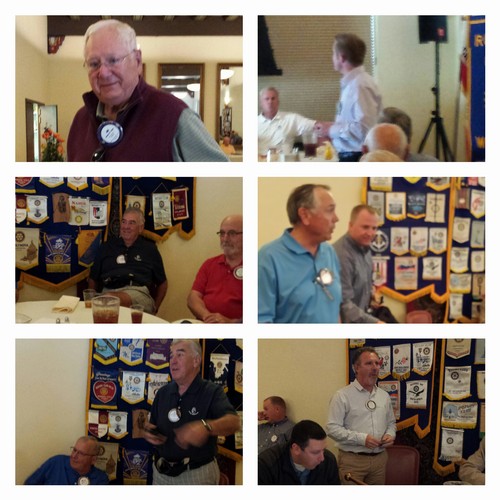 October 14, 2014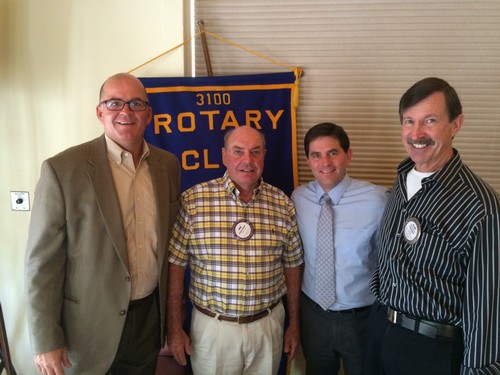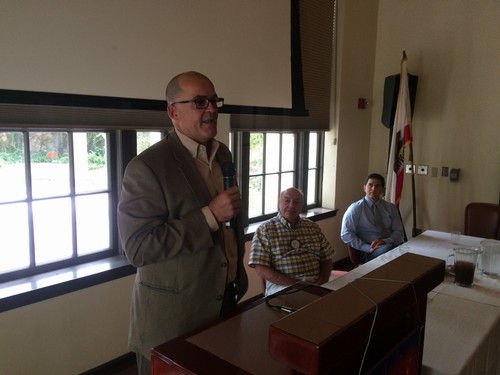 SACRAMENTO REPUBLIC SOCCER PROGRAM - Warren Smith, President & Founder of the Sacramento Football (Soccer) Club was our program speaker today, telling us about his efforts to bring major league soccer to our region. Warren was introduced by Dick Hoppin.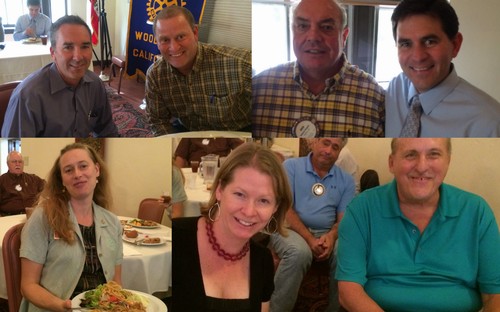 ?

Guests & visiting Rotarians today.
October 11, 2014
MS/Parkinson's Walk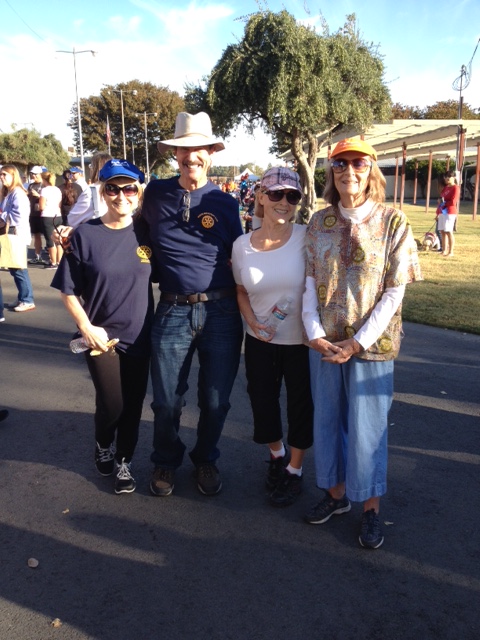 Laurie Ruiz, Clyde & Krim Brooker and Dona Mast, acting as our Club's team, completed the 5K (3 mile) walk at the Yolo County Fairgrounds today honoring Peter Faye and raising funds for research.?
October 7, 2014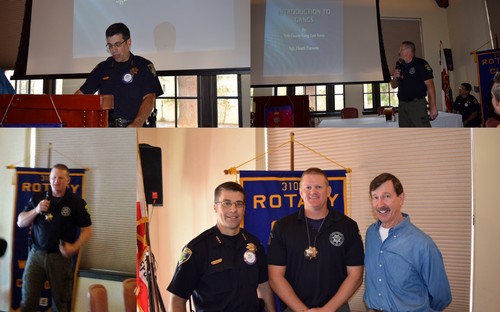 GANG PROGRAM - Woodland Police Sergeant Heath Parsons, assigned to the Yolo County Gang Task Force, was our guest speaker at today's meeting giving us a program on the history and characteristics of gang activity nationally and locally. Heath was introduced by Chief Dan Bellini.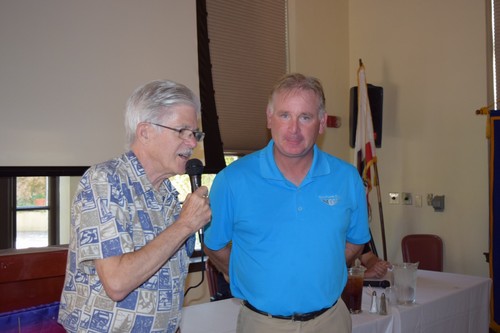 NEW MEMBER - Kurt Vogel was installed by sponsor Steve Venables as a new member in the Club.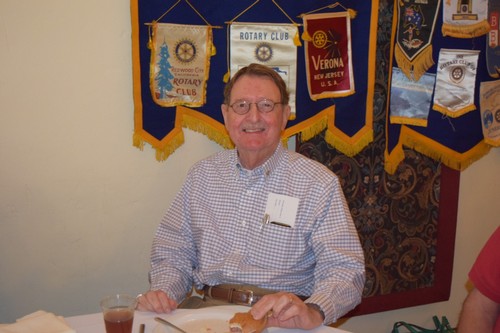 VISITING ROTARIAN - Charles Mack, Sunrise Rotary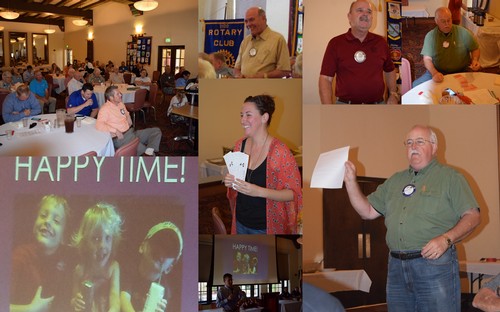 September 30, 2014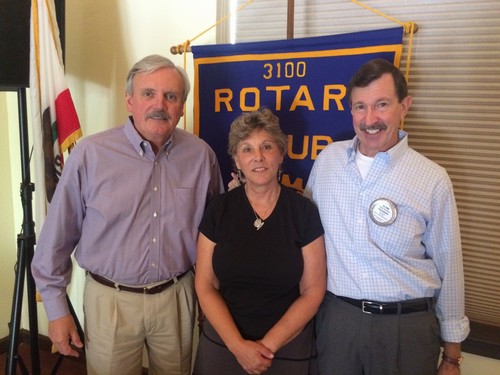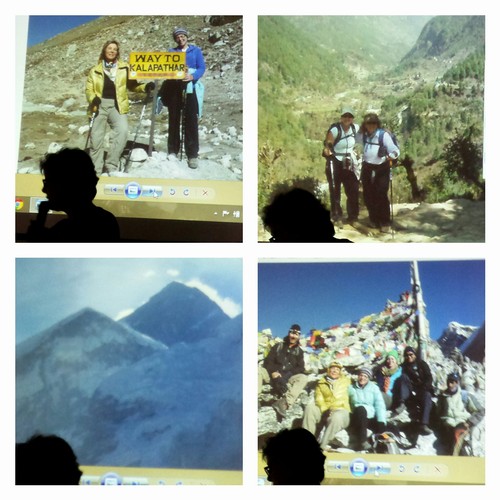 ?
ASCENDING TO BASE CAMP ON MOUNT EVEREST - Jan Frink, daughter of Pauly & former Club president, the late Wim Van Muyden, was our speaker today giving a program on her recent trip to the high country of Nepal.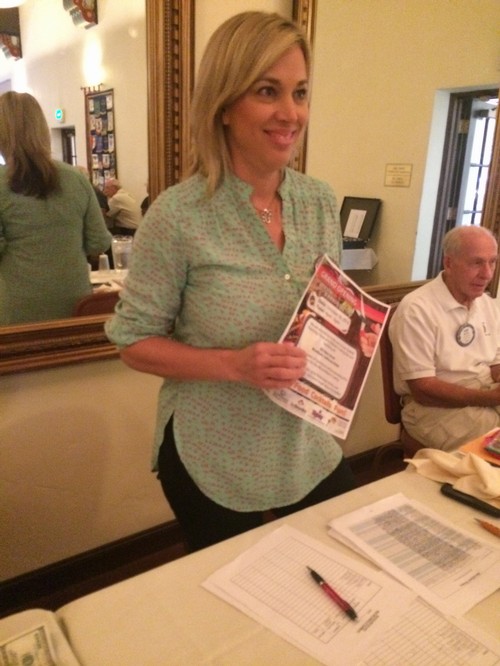 VAN BEURDEN BUILDING GRAND OPENING - Aniek Ramsey announced Van Beurden Insurance will be holding a Grand Opening of their new building at 283 Main Street on Oct 16 from 4-6pm and invited everyone to attend.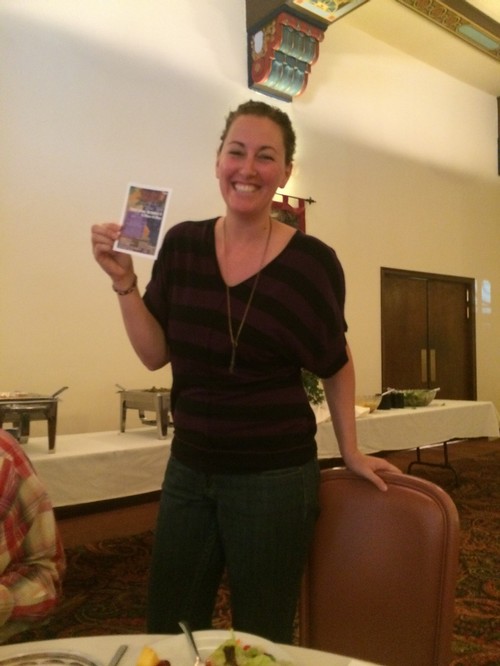 September 9, 2014
Sacramento Kings representative Stephen Leopold was our program speaker today; introduced by Chuck Maltese. Stephen gave us an update on what's happening with the new ownership & new arena.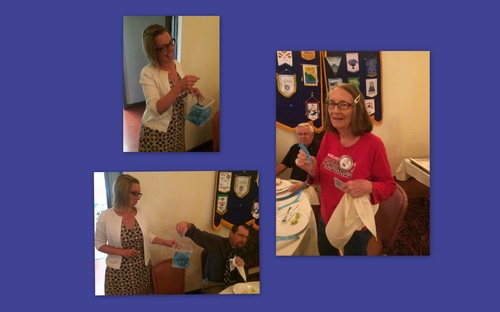 BIG RAFFLE!! - With the pot at $1121 and only one card left, Jenna Green asked Ken Nordgren to draw the winning ticket. Dona Mast held the winning ticket up and said she had purchased it for Clancy Duppong who could not attend. Way to go Clancy!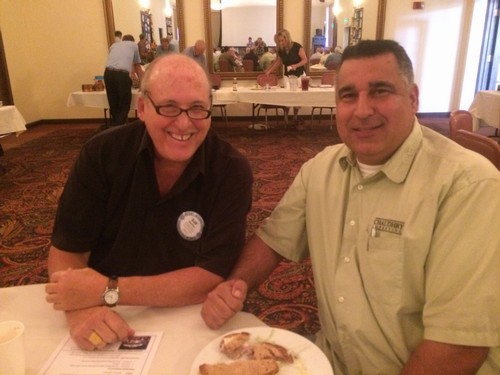 GUESTS - Stephen Chaudry (David Flory)
September 2, 2014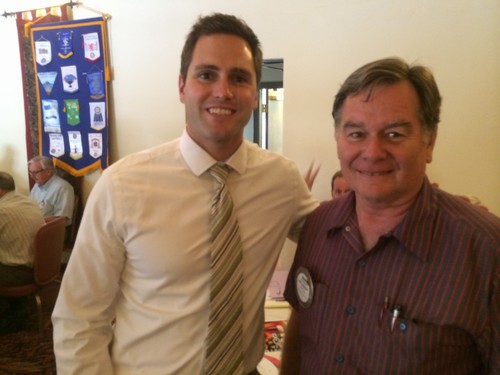 ?
Today's Guests of Rotarians - Justin Smith, Woodland Christian School Administrator (Mark Werum)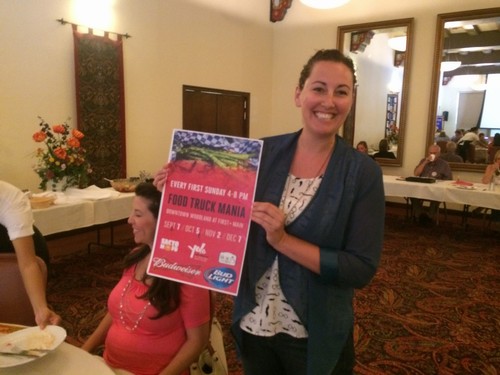 Active Downtown Woodland - Christy Hayes keeps us posted on what's happening downtown.
Dick Hoppin rang the bell in announcing he and wife Muffy will celebrate their 50th anniversary on September 5!

August 19, 2014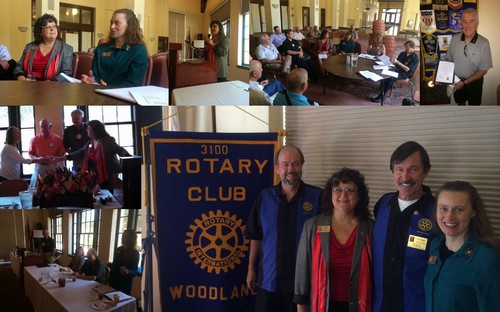 District Governor Pam Gray along with her husband Brian made her official visit with our Club today. DG Pam, along with Assistant DG Julia Larson (Sunrise Rotary), and later spoke to the full Club during our regular meeting.
?
Guests of Rotarians today - Kurt Vogel, Yolo Fliers Club GM (Steve Venables), Connor Green (Mike Chandler), Lori Ross, Woodland United Way Executive Director (Kris Kristensen), and Hiromi Diekman (Karl).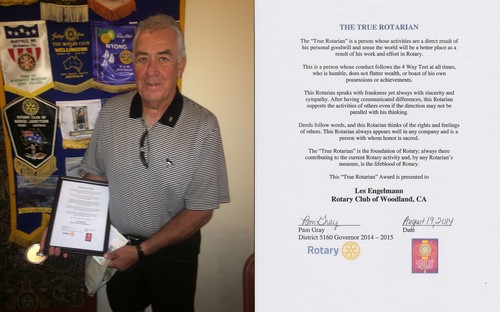 Immediate Past President Les Engelmann received a 'True Rotarian Award' from District Governor Pam Gray today.
August 16, 2014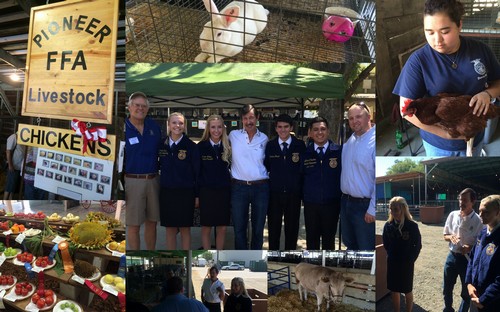 President Clyde, Sean Kolb & Kris Kristensen get a tour of projects and activities by the Yolo FFA high school students at the Yolo County Fair.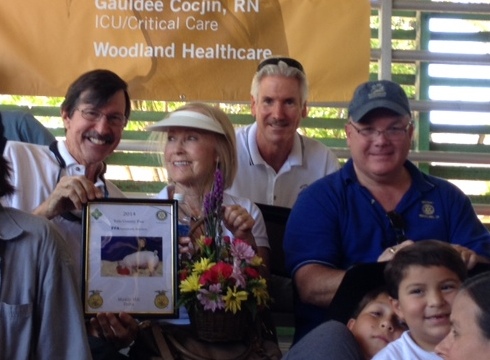 President Clyde & Krim Brooker along with Chuck Moore and Don Huff III at the FFA Auction at the Fair. Our Club provides financial support to be certain each participating student gets a fair price for their efforts. Clyde is holding a picture of a pig the Club purchased this year.
August 5, 2014 Meeting
Matthew Clavelli, 2014 Woodland High School Valedictorian with Scholarship Chair Becky Martin & President Clyde. Matthew thanked the Club for the scholarship he received from us. He will attend UC Berkeley in the Fall.