Announcements

ROTARY WORK DAY

Saturday morning, January 10, 2015

CHICKEN COOP PROJECT

Sci-Tech Academy,

Knights Landing

Weather permiting; details to follow




2015 DINNER/

AUCTION:

Saturday,

February 21, 2015

Holy Rosary Community Center.




Help us make this the 'go to place' for all your Rotary info. Send comments or suggestions to Kris Kristensen, 530 662 4827, or Gary Wegener, 530 666 4098



Rotary Club of Woodland
Local and International Service is our goal...
The Rotary Club of Woodland is a service organization represented by some of the most influential and respected leaders of our community. Our goal and reason for being is to improve the lives of those in our community and the world – and have a little fun and fellowship along the way.
Club Members are a part of a worldwide organization interested in world peace, understanding and most notably leading the effort to eliminate polio from the planet. The "End Polio Now" effort of Rotary has eliminated Polio from all but 3 countries and all 3,000 clubs in the world are committed and working to end Polio in the next few years – we are "This Close"!
Locally our Club sponsors leadership camps and provides scholarships to local students, provides a free BBQ Lunch to seniors each year, supports community projects and promotes community awareness and education for our Members through interesting and informational programs each week.
Clyde Brooker
President 2014-2015
Together we can...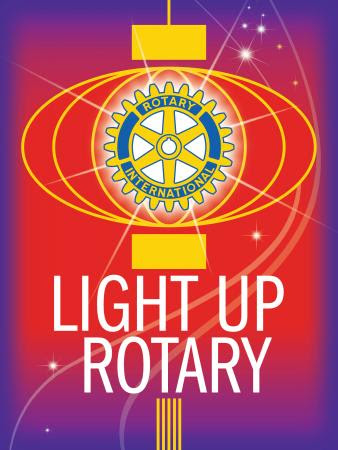 December 16th Meeting Highlights
HOLIDAY MUSIC PROGRAM - Ken Holck, Music Teacher, brought his Douglass Middle School Guitar Club and Choir to perform for us today.
GOOD TURNOUT TODAY!
President Clyde's got that Holiday Spirit! Clyde was presented with a special banner from District Governor Pam Gray during today's meeting acknowledging his leadership in making the Rotary Foundation a focus for the Club in November.
GUESTS & VISITING ROTARIANS - Many guests along with District Governor Pam Gray joined us today.
ROTARY FOUNDATION AWARD - Mahlon Whittle, joined by his wife Jan, received a MAJOR DONOR AWARD today from District Governor Pam Gray recognizing his lifetime contributions of more than $10,000 to the Rotary Foundation. Less than 1% of Rotarians ever receive this award. Congratulations and thank you Mahlon & Jan!!
FRANK'S BACK! - Frank Gardiner, along with wife Shirley, made his first meeting today since recent surgery. Good to see you Frank!
GIFTS FOR KIDS AT UC MED CENTER - The Club has responded to a drive initiated by Linda Konietzko by donating a variety of gifts for children who must spend Christmas in UC Medical Center's Pediatric ICU this season. President Clyde, shown with the donations, will make the delivery with Linda later this week.
Club Supports Rotary Foundation
Rotary Foundation Chair Tom Schwarzgruber reports that during the month of November 2014 alone, Club member donations to the Rotary Foundation exceeded $3500.
2015-16 Club Officers Elected
At its Dec 9th meeting, the Club voted to approve new Club officers for the 2015-16 year beginning July 1, 2015. Originally nominated the previous meeting by the Club's Past Presidents, the new officers for 2015-16 will be:
Kris Kristensen, President
Gary Wegener, President-elect
Clyde Brooker, Immediate Past President
Alan Flory, Secretary
Tony Delevati, Treasurer
Mark Werum, Sergeant-at-Arms
Jenna Green, Director, 2014-16
Dick Hoppin, Director, 2014-16
Tom LaBrie, Director, 2014-16
Christy Hayes, Director, 2015-17
Shaun Seyk, Director, 2015-17
George Burger, Director, 2015-17
Woodland Holiday Parade
ROTARY AT THE PARADE - Club volunteers at the Dec 6 Woodland Holiday Parade included Dona Mast, David Flory, Laurie Ruiz & Gary Wegener.
DEC 2nd RAFFLE WINNER - Chuck Maltese drew the joker to win $487 in the raffle. He donated all the proceeds to the Rotary Foundation. Way to go Chuck!!!
2015 Dinner/Auction Project Selected
At our Tuesday, November 18, the Club voted to select the Woodland Community College Electronic Marquee as the project to which we will pledge the net proceeds from our February 21, 2015 Dinner/Auction. Information about the project can be viewed at:
Woodland Community College Community Electronic Marquee
Mockup1
Mockup2
Work Day
CHICKEN COOP PROJECT - The Club's Work Day team was busy Saturday, November 15, building a chicken coop for the Sci-Tech Academy in Knights Landing. Team leader Gary Wegener was joined by President Clyde Brooker, Alan Flory, Tom Schwarzgruber, Karl Diekman, Aniek Ramsey, Mark Ullrich and Dave Flory in the hands-on effort. Also, Dick Hoppin helped get supplies to the site earlier in the week.
2014 Scholarship Winner Thanks
Woodland Rotary
Matthew Clavelli, 2014 Woodland High School Valedictorian with Scholarship Chair Becky Martin and President Clyde Brooker at the Club's August 5th meeting. Matthew thanked the Club for the scholarship he received from us. He will attend UC Berkeley this Fall.
At the Start
At the Start - Club Historian Steve Venables shares copies of the April 30, 1926 Woodland Democrat highlighting the article 'Seventeen Sign to be Rotary Club Members', which reported the names of the first officers and members of the Club to sign the charter roll the night before.The list includes some key names in Woodland history (i.e. Blevins, Leake, Payne, Traynham and others.) It's how we got started. Thank you Steve!
Rotary Shirts Available
Want a Rotary polo shirt? - Richard O'Malley and his wife Cathy, are offering polo shirts embroidered with the Woodland Rotary logo. Two types of shirts are available: (1) Port Authoritymodel; 65% polyester & 35% cotton; 35 colors to chose from; $20 each includes tax ($2 extra for upsizes above XL); and (2) Nike Golf model; 100% polyester; 11 colors to chose from; $60 each includes tax ($2 extra for upsizes above XL). Customer's shirts can also be embroidered for $10 each. Complete the order form; make check payable to 'Embroidery by Cathy' & get both to Richard or Cathy.
Click to View Rotary International News
Do You Like Us?
2014-2015
Clyde Brooker- President, Rotary Club of Woodland
Kris Kristensen- President-Elect
Secretary-Alan Flory
Treasurer-Tony Delevati
Pam Gray- District Governor, District 5160
Gary C.K. Huang - President, Rotary International
Rotary International Convention
SÃO PAULO, BRAZIL | JUNE 6-9, 2015
'The Rotary Club of Woodland is a service organization represented by some of the most influential and respected leaders of our community. Our goal and reason for being is to improve the lives of those in our community and the world – and have a little fun and fellowship along the way.'