Announcements

All Aboard the

Polar Express!

Woodland

Rotary

Clubs'




Christmas

Party




Friday,

December 7,

2018

Organized

by Luna Vista





Reservation

and

payment

($65 per person)

due by

November 15

Make check

payable

to

'Rotary Club

of Woodland'


Contact

to make

reservation





Help us make this the 'go to place' for all your Rotary information. Email comments or suggestions to Kris Kristensen, or call 530 304-5641.






ROTARY CLUB
OF WOODLAND
Logo designed by Ryanne Green, President Mike Chandler's granddaughter.
Rotary 2018-19

Dona Mast - Rest in Peace
1936-2018

We are saddened by the news that former Club President Dona Mast passed away, Saturday, November 10, 2018 after a long illness. Originally from Yukon Oklahoma, Dona had been a member since 2000 and served as Club President in 2011-12. She and husband Cowles, a Sunrise Rotarian, were farmers in the Esparto area.
Memorial Service
1:00pm
Saturday, November 17, 2018
Woodland United Fellowship Church
242 N West Street
Woodland
Celebration of Life
to follow at
630 Lincoln Avenue
In lieu of flowers
donations in her memory
can be made to:
Alzheimers Association
Yolo Hospice
Woodland Healthcare Foundation
published in
Daily Democrat

World War I
Commemoration Parade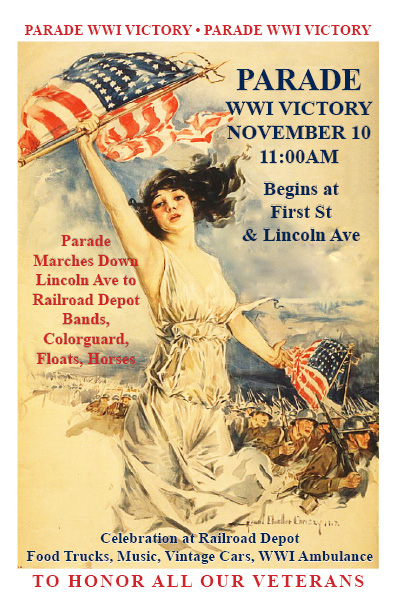 Steve Venables coordinated our efforts at the Train Depot. Steve thanks Club volunteers President Mike Chandler, Frank Gardner, Gary Bunch, Barbara Sonin, Scott Johnston, Jim McGibbon, Bob Nakken, Aniek Ramsay, Clancy Duppong, and Kris Kristensen for their assistance.
Playground Project
Nearing Completion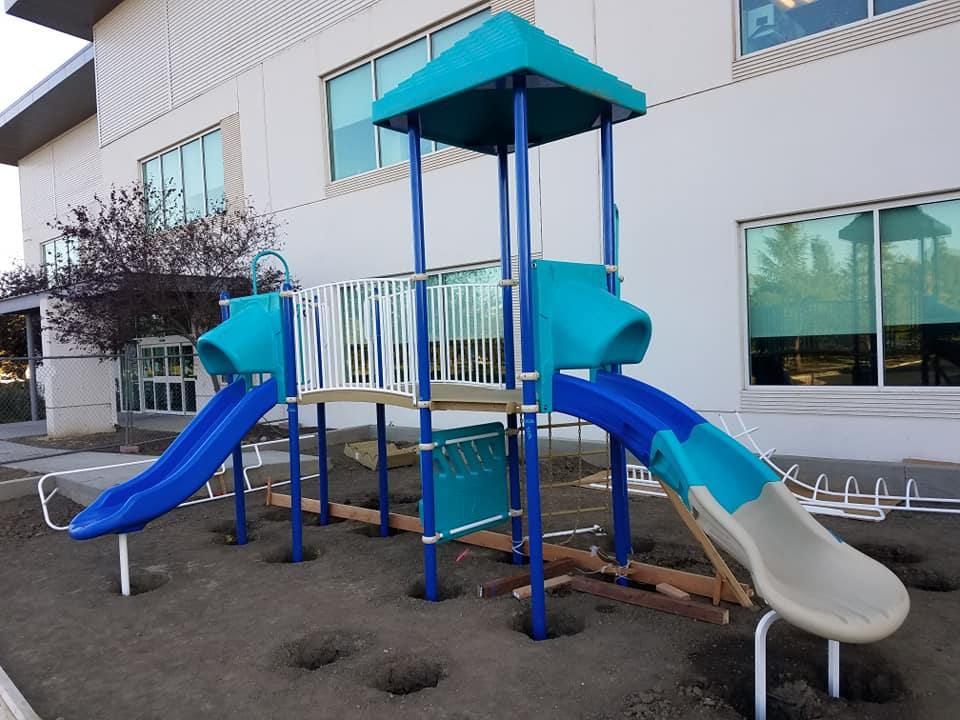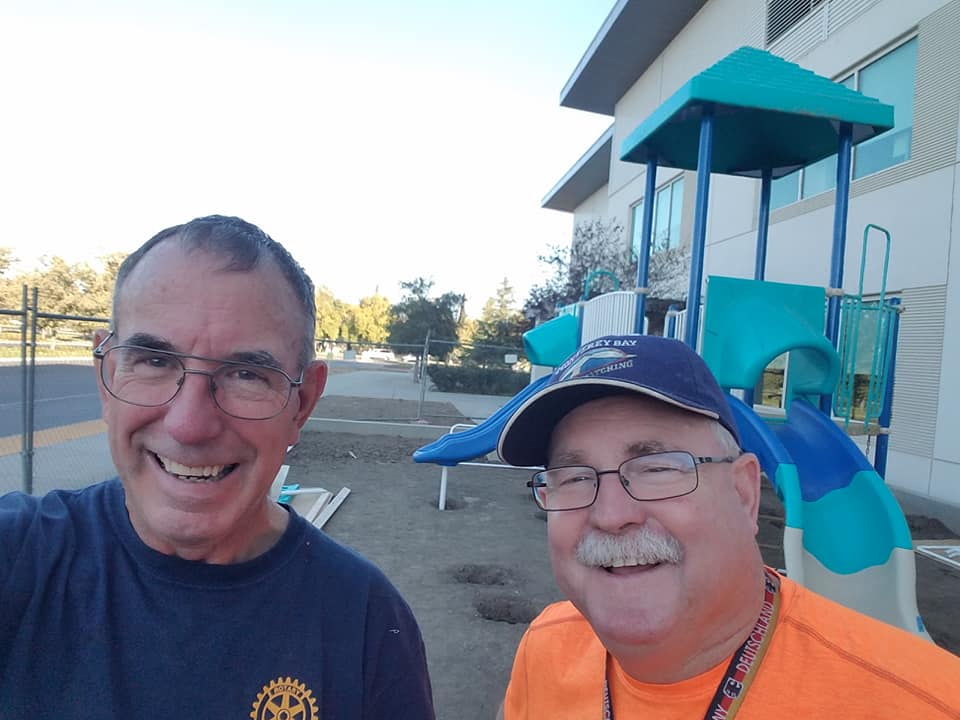 The Club is building a new playground at the Yolo County Health & Human Services Agency building at 137 N. Cottonwood Street. On November 8 Don Huff III, Gary
Wegener (coordinator), Dan Stroski and Kris Kristensen augered and dug out fence post holes around the site.
If you can help or have questions contact either
Gary Wegener (530 666-4098) or Dan Stroski (530 723-2246)
November 6th Meeting
Retired U.S. Army Staff Sergeant Jeremiah Pauley was our guest speaker today, giving us an inspirational presentation on his experiences in the War in Iraq, overcoming life threatening injury and Post Traumatic Stress to become involved in the Wounded Warrior Project.
Mark Werum led Recognition today with a series of sports trivia questions in memory of George Berrettoni. Kevin Haarberg and wife Lorie just returned from an African safari in Tanzania. Tabb Randolp just returned from a great trip to Italy. Steve Venables got us ready to participate in this Saturday's WWI Commemoration Parade.
Scott Johnston celebrated his 65th birthday last month in Arizona. Jim McGibbon was please with the way wounded veteran and Congressional candidate Dan Crenshaw handled Saturday Night Live's ridicule by asking for donations to veteran's charities rather than an apology. Frank Gardner expressed gratitude for those that served in the military, acknowledging he and his family had not had to make such a sacrifice.
Don Huff III enjoyed a birthday and a successful hunting trip recently. Lori Ross had a great anniversary last month and is planning on a trip to Hawaii.
Prospective new member John Ketelsen, guest of Jim Taylor, joined us again today.

Our Newest Member!
Lacey Hilliard, Manager of Lyon Real Estate in Woodland, was installed as the Club's newest member on October 2nd. Congratulations Lacey!
George Berrettoni - Rest in Peace
1950-2018
The Rotary Club of Woodland lost a beloved member Friday, September 20, 2018. George Berrettoni joined the Club in 1976 and served as Club President in 1997-98.
View obituary in Daily Democrat
October 30th Meeting
We were privileged to have Karen Ross, Secretary of California's Department of Food & Agriculture, as our guest speaker today. In what is likely the first time our Club has hosted a member of the Governor's cabinet, Karen discussed a wide range of topics in her presentation on the current changes and challenges facing the nation's largest agricultural producing state. Thanks to Peter Holmes for arranging this interesting and thought provoking program.
We were honored to have Richard Rominger of Winters join us today. Richard previously served as Secretary of California's Department of Food & Agriculture for Governor Jerry Brown (1977-82), and served as Deputy Secretary and chief operating officer of the U.S. Department of Agriculture for President Clinton (1993-01). Other guests included prospective new member John Ketelsen (guest of Jim Taylor), and Frank Muller (guest of Roy Holmes). Frank managed to draw a free lunch from the raffle.
President Mike presented our newest member Lacey Hilliard with her Club badge today.

Though their pipes may be rusty, Jim McGibbon, Marc Faye, Steve Venables, Mark Werum and Clancy Duppong managed to get us going on Rotary Grace today.

Redding Area Fire Victims Relief
In response to this summer's devasting wildfires in the Redding area members of our Club and the Woodland Rotary Endowment combined to make a donation of $5050 to the Shasta Regional Community Foundation with whom the local Redding Rotary clubs are working in support of fire victims.
Recently the Club received the attached letter of thanks for our donation.
Beer Booth '18
Scenes from the 2018 Rotary Beer Booth at the Yolo County Fair. Operated by the nine Rotary Clubs within Yolo County, President Mike Chandler said initial reports indicate 2018 event proceeds exceeded $97,000. Thanks go to our Club's coordinator Dick Hoppin for his efforts.
.
Click to view Rotary International news
Do You Like Us?