Announcements

LUNA VISTA ROTARY'S YOLO MICROBREW FESTIVAL

Saturday, September 6, 2014 from 3-9pm at Rotary Park. For details click here. Purchase tickets online at Yolo Microbrew Fest.




MS/PARKINSON'S TEAM WALK - 8am-11am Yolo County Fairgrounds. A 1-5K walk honoring Peter Faye and raising funds for research. Contact Dona Mast to sign up. Click here for details.




2015 DINNER/

AUCTION:

Saturday, February 21, 2015; Holy Rosary Community Center.




Help us make this the 'go to place' for all your Rotary info. Send comments or suggestions to Kris Kristensen, 530 662 4827, or Gary Wegener, 530 666 4098



Do You Like Us?
Welcome to the
Rotary Club of Woodland
where local and international
service is our goal...
The Rotary Club of Woodland is a service organization represented by some of the most influential and respected leaders of our community. Our goal and reason for being is to improve the lives of those in our community and the world – and have a little fun and fellowship along the way.
Club Members are a part of a worldwide organization interested in world peace, understanding and most notably leading the effort to eliminate polio from the planet. The "End Polio Now" effort of Rotary has eliminated Polio from all but 3 countries and all 3,000 clubs in the world are committed and working to end Polio in the next few years – we are "This Close"!
Locally our Club sponsors leadership camps and provides scholarships to local students, provides a free BBQ Lunch to seniors each year, supports community projects and promotes community awareness and education for our Members through interesting and informational programs each week.
Clyde Brooker
President 2014-2015
Together we can...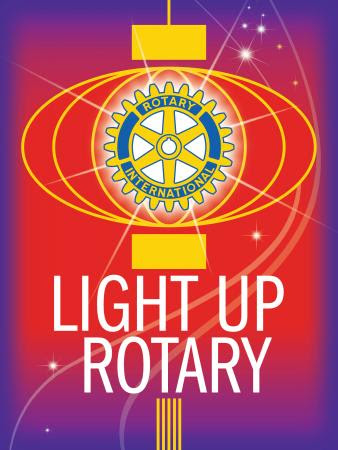 The True Rotarian
True Rotarian Award Winner - At our August 19th meeting Immediate Past President Les Engelmann was presented with the 'True Rotarian' Award by District Governor Pam Gray for his service to Rotary. Way to go President Les!
August 26, 2014 Meeting Highlights
The Nigiri Project - Today's speakers, Carson Jeffres (left), UCD, and John Brennan (between President Clyde and Roger Dorris), Cal March & Farm told us about efforts to use local rice fields to improve the growth of young salmon.
At the Start - Club Historian Steve Venables shares copies of the April 30, 1926 Woodland Democrat highlighting the article 'Seventeen Sign to be Rotary Club Members', which reported the names of the first officers and members of the Club to sign the charter roll the night before.The list includes some key names in Woodland history (i.e. Blevins, Leake, Payne, Traynham and others.) It's how we got started. Thank you Steve!
District 5160 Officers Visit - District Governor Elect (2015-16) Ken Courville (Dixon Rotary) (left), and District Governor Nominee (2016-17) Fred Collignon (Berkeley Rotary) joined us today.
Haarbergs Reconnect with Rotary Exchange Student - Kevin Haarberg told us he and wife Lorie just returned from the wedding of their former Rotary Exchange student Jenny Kurucz, in a beautiful outdoor setting near Heidelberg, Germany. Jenny was with the Haarbergs for 4 months in 2002-03. A special bonus was that another former exchange student of the Haarbergs, Charlotte Lindsater of Sweden, also attended and she announced her own plans for a wedding in 2016. Kevin guesses they'll be making another trip back to Europe again that year.
Luna Vista President Dexter Quiggle visited to remind us about Luna Vista's Yolo Microbrew Festival Saturday, September 6 at Rotary Park. Event details and online ticket purchase links can be found in the box on the right side of this page.
Woodland Community College Employment Services Specialist Charmaign Lomastro is seeking interested employers to participate in the CalWORKS Work Study On-the Job Training Program. Program details are summarized here. Contact Charmaign at 530 661-4221 or at clomastr@yccd.edu to sign up.
Today's Guests of Rotarians - Major Darren Glenn, US Army, just returned from Afganistan with the 10 Mountain Division (eldest son of Tim Pettit's wife Nadine), Matt Abbott (cousin of Dan Stroski), and Kurt Vogel, Yolo Fliers Club General Manager (Steve Venables).
2014 Scholarship Winner Thanks
Woodland Rotary
Matthew Clavelli, 2014 Woodland High School Valedictorian with Scholarship Chair Becky Martin and President Clyde Brooker at the Club's August 5th meeting. Matthew thanked the Club for the scholarship he received from us. He will attend UC Berkeley this Fall.
Rotary Supports FFA at the Yolo County Fair
FFA Barn/Project Tour - Woodland Rotary supports the Future Farmers of America (FFA). President Clyde, Sean Kolb & Kris Kristensen get an August 15th tour of projects and activities by Yolo FFA high school students at the Yolo County Fair.
Woodland Rotary Supports the FFA Auction - President Clyde & Krim Brooker along with Chuck Moore and Don Huff III at the August 16th FFA Auction at the Fair. Our Club provides financial support to be certain each student gets a fair price for their efforts. Clyde is holding a picture of a pig the Club purchased this year.
2014-2015
Clyde Brooker- President, Rotary Club of Woodland
Kris Kristensen- President-Elect
Secretary-Alan Flory
Treasurer-Tony Delevati
Pam Gray- District Governor, District 5160
Gary C.K. Huang - President, Rotary International
District 5160 Conference in Reno Oct 31- Nov 2, 2014
Rotary International Convention
SÃO PAULO, BRAZIL | JUNE 6-9, 2015
'The Rotary Club of Woodland is a service organization represented by some of the most influential and respected leaders of our community. Our goal and reason for being is to improve the lives of those in our community and the world – and have a little fun and fellowship along the way.'