Announcements

SUNRISE

ROTARY

BLOOD

DRIVE

Thursday,

January 10,

2019

8am-1pm

Click here

for details

and

how to

make

appointment




Help us make this the 'go to place' for all your Rotary information. Email comments or suggestions to Kris Kristensen, or call 530 304-5641.






ROTARY CLUB
OF WOODLAND
Logo designed by Ryanne Green, President Mike Chandler's granddaughter.
Rotary 2018-19

Playground Project -
Ribbon Cutting

The Club's work to build a new playground in front of the Yolo County Health & Human Services Agency 'Herbert Bauer Building' at 137 N. Cottonwood Street has been completed. The Club, with financial support from the other nine Yolo County Rotary clubs, Rotary District 5160, Matt & Jenn Rexroad, and county employee contributions through Woodland United Way, completed construction of the facility. It is designed to support families with children receiving services at the Bauer building, as well as the general public. By using a community build approach with Rotarians augmented after work hours by county employees and other volunteers, and donated services from Laugenour & Mickle Civil Engineers, Kimzey Welding, and Amos Metz, the Club was able to double the size of the play structure within the available $42k budget.
The project was led by coordinators Gary Wegener and Dan Stroski with several Club members participating. Their work is a credit to the entire Club.
A ribbon cutting ceremony was held December 6th to open the facility for use. Gary Wegener is pictured in the ribbon cutting above with fellow Rotarian Lori Ross, representing Woodland United Way, and Karen Larsen, Yolo County Health & Human Services Agency Director.
December 4th Meeting -
Holiday Program
We enjoyed a wonderful performance by the Douglass Middle School Jazz Band and Choir, under the direction of Luiz Coehlo, Director of Music, at our meeting today. Both the band and choir performed a wide range of selections including several holiday favorites.
Mr. Coehlo mentioned four groups of Douglass school students (Concert Band, Choir, String Orchestra and Jazz Band) have been invited to travel to Disneyland May 16-19, 2019 to perform, do a workshop with professional musicians, and record some music to some Disney movies. The cost per student is $750 and the school hopes to help 100 students make the trip. The Middle Schools of Woodland Music Boosters, a local non-profit 501(c)3 organization, is conducting a fundraising effort to support the venture. Contributions can be made to 'Middle Schools of Woodland Music Boosters' (notation 'Douglass Music Dept') by mail at P.O. Box 853, Woodland CA 95776. For more information contact Michele Mitchell at Middle School Boosters (chelmitchell@sbcglobal.net ), or Luiz Coehlo at 530 666-2191 ex.2169.
The Holiday program brought out several spouses today. Among them were Shirley Gardner (Frank), Gail Engelmann (Les), Kaye LaBrie (Tom), Mary Jo Holmes (Roy), Susie McGibbon (Jim), and Kathy Kristensen (Kris). Gerda Faye (Marc) was also with us.

New member John Ketelsen received his Club badge today, as soon as President Mike Chandler dug it out of his pocket! Immediate Past President Peter Holmes conducted the election of Club officers effective July 2019. By a unanimous vote,Tabb Randolph will be President-elect (serving as Club President 2020-21), and Jason Smith, Jim McGibbon and Jim Nolan will serve two years terms (2019-21) on the Board of Directors. Congratulations!!!
Coordinators Gary Wegener and Dan Stroski reported that the Club's work on the playground structure in front of the Yolo County Health & Human Services Agency 'Herbert Bauer Building' has been completed. They thanked the many Club members who volunteered several hours of effort to the project completed. They urged members to attend the ribbon cutting ceremony at the site at Noon, Thursday, December 6th to see the results and enjoy a hot dog.

Camp Fire - Paradise Relief
Once again wildfire has ravaged the northern region of our own Rotary District 5160. The Camp Fire destroyed Paradise CA, a community of 27,000 people, earlier this month. The Woodland Rotary Endowment has pledged to match contributions made by our members to aid victims of the Camp Fire.
President Mike Chandler announced at the November 27th meeting that Club members have submitted contributions in excess of $4000. Mike also announced he has extended the deadline for members to submit contributions. Contributions (check's payable to 'Woodland Rotary Endowment') submitted by that date will be sent by our Endowment, along with a match, to the Paradise Rotary Foundation as recommended by District 5160.
For more information contact Club President Mike Chandler.
November 27th Meeting
Our PDG Karl Diekman, who also serves as District 5160 Foundation Chair, was our program speaker today. He gave us a presentation on the extensive international travel he does annually on behalf of Rotary. As he reminded us, Rotary does not reimburse his travel expenses on these journeys. The pictures above are from (top to bottom) Kenya (with the Kenya Smiles Project), Nicaragua (with the Cervical Cancer Screening Project), India (for National Immunization Day) and Livingston, Zambia (for the Dictionary Project our Club supported).
After a little problem with the introduction, President Mike Chandler inducted John Ketelsen as the Club's newest member today. John was sponsored by Jim Taylor. Welcome John!

Mahlon Whittle was the subject of 'This is Your Life' today. Roy Holmes 'rang the bell' in announcing he will be 93 years old November 28th; and on December 11th Roy and wife Mary will celebrate their 70th wedding anniversary!
Immediate Past President Peter Holmes placed in nomination the names of Club officers proposed by the Nominating Committee (i.e. the Club's Past Presidents) for terms starting July 2019. They were developed by the Committee at a meeting held at Peter's house the night before. Tabb Randolph was nominated for President-elect (serving as President 2020-21). Above is a picture of Tabb with the assembled Curmugeons last night showing how excited he is about the idea! Jason Smith, Jim McGibbon and Jim Nolan were nominated for two year terms on the Club's Board of Directors. The election of Club officers will take place at next week's Club meeting.
Lacey Hilliard, joined guest/husband Josh, was happy to make two donations, one from the F.I.R.E Foundation and the other personal, toward the Endowment's efforts to aid victims of the Camp Fire.
Shawn Seyk was thanked for working Meals on Wheels today. David Janes led today's 'fine fest'. Jane O'Meara was happy the folks who had purchased a stay at her family's Lake Tahoe cabin at this year's Dinner Auction enjoyed using the place recently. With the pot at $818 and only six cards remaining, Carl Rodegerdts managed to draw a free lunch.
Jennifer Ward was grateful that, following a few scares/hospital visits, her husband Jed has received a clean bill of health. Dan Stroski enjoyed time with family in Chicago over Thanksgiving. Don Huff III was happy he's completed his Bobcat operator service on the Club's Playground Project, and recently found out he is going to be a grandfather. Chuck Maltese was amazed at the number of beverage containers he had to recycle when his family from the Mid West came to visit he & Joyce this Thanksgiving.
We enjoyed having visiting Rotarians Amy Busch (West Sacramento) and John Martin (Sunrise) with us today.
Dinner Auction
Beneficiaries Selected
At its November 20, 2018 meeting the Club decided it will use net proceeds from the Club's 2019 Dinner Auction to fund the following community projects:
This decision was made following a recommendation made by the Club Board and Endowment Board 2x2 Committee consisting of Laurie Ruiz & Nick Roncoroni (Club Board) and Ken Nordgren & Tom Schwarzgruber (Endowment Board) who reviewed eleven requests for funding received from various organizations.
Dona Mast - Rest in Peace
1936-2018

We are saddened by the news that former Club President Dona Mast passed away, Saturday, November 10, 2018 after a long illness. Originally from Yukon Oklahoma, Dona had been a member since 2000 and served as Club President in 2011-12. She and husband Cowles, a Sunrise Rotarian, were farmers in the Esparto area.
published in
Daily Democrat

World War I
Commemoration Parade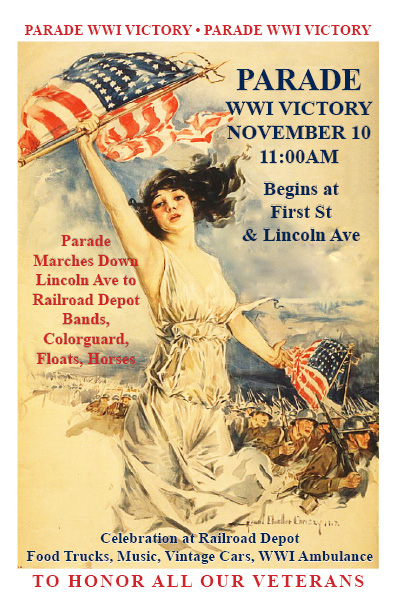 Steve Venables coordinated our efforts at the Train Depot. Steve thanks Club volunteers President Mike Chandler, Frank Gardner, Gary Bunch, Barbara Sonin, Scott Johnston, Jim McGibbon, Bob Nakken, Aniek Ramsay, Clancy Duppong, and Kris Kristensen for their assistance.
George Berrettoni - Rest in Peace
1950-2018
The Rotary Club of Woodland lost a beloved member Friday, September 20, 2018. George Berrettoni joined the Club in 1976 and served as Club President in 1997-98.
View obituary in Daily Democrat
Redding Area Fire Victims Relief
In response to this summer's devasting wildfires in the Redding area members of our Club and the Woodland Rotary Endowment combined to make a donation of $5050 to the Shasta Regional Community Foundation with whom the local Redding Rotary clubs are working in support of fire victims.
Recently the Club received the attached letter of thanks for our donation.
Beer Booth '18
Scenes from the 2018 Rotary Beer Booth at the Yolo County Fair. Operated by the nine Rotary Clubs within Yolo County, President Mike Chandler said initial reports indicate 2018 event proceeds exceeded $97,000. Thanks go to our Club's coordinator Dick Hoppin for his efforts.
.
Click to view Rotary International news
Do You Like Us?